I'm definitely a messy person… I know where everything is but I just can't organize. I don't make lists and find scripts on the laundry machine, and under my bed, or in the bathroom, kitchen. It's bad, I really need to take control.
Katie Holmes
Read more: http://www.brainyquote.com/quotes/keywords/organize.html#ixzz1jerReCfh
Katie is preaching to the choir here. I am always a mess, although I absolutely know where everything is. I am a "stacker" meaning my go-to form of organizing is to neatly categorize and stack everything in to piles. Not that cool, actually. If someone moves a pile, I am lost forever. Is it just me? Are any of my lovely readers "stackers"? Or are you a labeler, or out of sight out of mind type? Maybe you have all of your clutter under control; maybe not. There are so many different brain types out there, each processing and dealing differently, that there can not possibly be a single solution for all of us.
This year, I resolved to be more organized. So far, I have not come leaps and bounds above where I was in 2011, but there have been a few improvements here and there.
So what did I do? I bought a book. (Like I really need another book in my house. I am the world's worst book hoarder. I just can't get rid of them) Not just any old book, mind you. An organizational book. There are a few in my collection that have never held my attention, but I thought I might give this one a try. It's called:
Organizing for Your Brain Type: Finding Your Own Solution to Managing Time, Paper, and Stuff by Lanna Nakone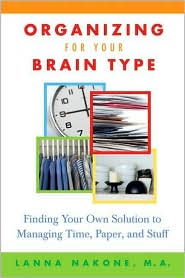 I will let you know what I think soon. Wish me luck!
Elizabeth